By Nick Squires
October 6, 2009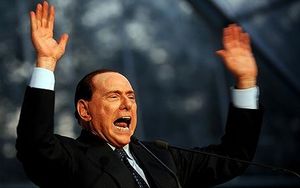 Silvio Berlusconi should be considered above the law, his lawyers insisted yesterday, as Italy's highest court deliberated on whether legislation giving the prime minister immunity from prosecution was unconstitutional.
Mr Berlusconi's duties distinguished him from ordinary Italians, his legal team argued.
"The prime minister. . . should be considered the 'first above equals'," said one of his lawyers, Gaetano Pecorella, putting a new twist on the more familiar Latin "primus inter pares", or "first among equals".
Opposition MP Massimo Donadi, of the Italy of Values party, said the argument recalled George Orwell's novel 'Animal Farm', in which the pigs asserted that "all animals are equal, but some animals are more equal than others".
Immunity
The 15 judges of Italy's Constitutional Court are considering the legality of the so-called Alfano Law, which was introduced by Mr Berlusconi after his re-election last year and gives him immunity from prosecution while in office.
Judges in Milan and Rome have challenged the legislation, saying it violates the principle that all Italians should be equal before the law.
If the court quashes the law, criminal cases involving the prime minister would be reactivated. Rejection of the law could also lead to early elections, at a time when Mr Berlusconi (73) is under pressure from a series of sex scandals. A ruling could take up to two weeks.
After a public hearing, the judges withdrew to deliberate and after two hours in private adjourned until this morning, a judicial source said.
They are expected to rule by tomorrow, but the Italian media said that they were split down the middle over the case, and could decide to delay their verdict by two weeks.
The controversial law shielding Italy's top-four holders of state office, including Mr Berlusconi, from prosecution was one of the first acts of the conservative leader's government when he formed his latest government last year.
Legal proceedings against him were halted as a result, including a trial in which he was accused of bribing British lawyer David Mills to give false testimony to protect his businesses.
Two other cases, one accusing Mr Berlusconi of tax fraud and false accounting over the acquisition of TV rights by his family-owned broadcaster Mediaset, and another involving allegations that he tried to corrupt opposition senators, have also been frozen.
Mr Berlusconi denies any wrongdoing.
Prosecutors in those cases have appealed to the Constitutional Court, arguing that the immunity law violates principles that are enshrined in the constitution -- including that all citizens are equal before the law.
The court began by hearing both sides yesterday morning.
A defiant Mr Berlusconi said on Monday he would serve out his full term until 2013 and his allies closed ranks around him.
"Silvio Berlusconi is firmly at the helm of the country, because that is the will of the voters who gave him the mandate to govern for five years," said the Planning Minister Gianfranco Rotondi.
Source